Disclaimer: We are GrooveFunnels affiliates and may get commissions for purchases made after clicking links on this page.
So you want your company's sales process to work by using funnels, but can't find a good platform, then this GrooveSell review is perfect for you.
Applying a marketing funnel for your business is an effective way to make money while keeping your brand relevant to your customers.
As you can see, an effective sales funnel turns prospects into a buyer after passing the entire sales process.
Your company's sales process should be able to guide customers inside the funnel and also effective enough to encourage them to make a purchase.
If you're getting little to no conversions, then there's something wrong inside your funnel.
And sometimes it can be because of the platform you're using.
This review will tell you what GrooveSell can do for your business especially if you're planning to build a sales funnel.
GrooveSell Review
What is GrooveSell?
GrooveSell is a comprehensive platform that lets you build effective sales funnels for your products.
The platform also has all the tools you need to start selling products online while being part of their affiliate program.
This software is actually part of GrooveFunnels from GrooveDigital, and it comes with features that you can use for free.
Of course, it's free for a limited time and you might want to catch up by signing up here.
GrooveSell Features
GrooveSell comes with amazing features to help you set up your online store without even applying your coding skills – if you have it.
When you sign up for the first time even on the free account, you can take advantage of the software tools right away.
With the free account, you can:
Start selling unlimited products
Build unlimited sales funnels
Add a custom shopping cart (plus checkout options)
Instantly become an affiliate
Create unique "Thank You" pages
Add Upsells, Downsells, and Order Bumps
Integrate with other payment platforms
Get insights about your store
Create your affiliate program
If you think about it, this powerful software isn't anything that you can get for FREE.
Most eCommerce platforms out there would charge you more with these amazing features.
The best part is that GrooveSells doesn't require monthly feels despite being free software for marketers and funnel builders.
PROS and CONS of GrooveSell
Just like any other eCommerce platform, GrooveSell also has its pros and cons.
PROS
Very user-friendly interface
Easy App Integration
Affiliate Program
No hidden fees
Ability to create upsells, downsells, order bumps
Unlimited products and sales funnels
Advanced insights
CONS
Still running on the beta version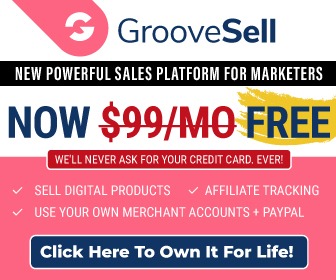 Why is it free? Is there a catch?
It's free because according to the co-founder of GrooveFunnels, Mike Filsaime, the company aims to help funnel builders and marketers around the world.
When you sign up today, you'll also have instant access to other tools that are inside GrooveFunnels.
Oh, and did I mention it's free lifetime access?
Yes, free lifetime access to GrooveFunnels!
However, the thing about the free account is that there are also limits like in GrooveMember, where you can only get 100 members for your site.
If you want to get the most out of GrooveFunnels, we highly suggest you get their lifetime deal.
The GrooveFunnel platinum lifetime plan is a one-time payment of $1397 for lifetime access to the platform along with other marketing tools.
Although the free plan also has lifetime access to GrooveFunnels, the difference is that other features are exclusive to platinum members.
Additionally, you may also opt for the installment plan for GrooveFunnels where you can pay 5 monthly payments at $497 a month.
If you're wondering why I'm encouraging you to get this deal today, that's because this exclusive deal is ending soon.
And you might pay more since the prices are expected to go up to $3500 a year or $299 a month.
As a marketer, you should invest on something as good as GrooveFunnels to run your online business.
Do I need GroovePages to use GrooveSell?
NOPE
Everyone can use GrooveSell even without GroovePages to add funnel functionality to your sales process, and it's actually pretty easy.
But if you don't have a website yet, you can also use GroovePages since you can access the page builder when you sign up for even on the free account.
Building a Sales Funnel on GrooveSell
Before you start building a sales funnel on the platform, you should be aware of the four essential stages inside the funnel.
If you already know the basics, that's good, but if not, just remember the term/acronym 'AIDA' which stands for:
Awareness is where the prospect becomes aware of your brand through ads, word of mouth, etc.
Interest is the stage where the prospect finds your offer interesting, thus, doing more research on your brand.
Decision is where they decide to get your offer or not.
Action is the last stage of the funnel where the prospect is now a customer.
The reason why I keep mentioning this part in most of my reviews is that there are also marketers who still don't know the important stages.
And sometimes, even if they already have an idea of these four elements, they tend to mix the first and last stages.
This could actually affect any sales funnel, thus, the reason why it doesn't work.
Here's how you can build an online store for free using GrooveSell and GroovePages…
When you use GrooveSell for your sales funnel, you don't have to worry about the number of pages and sales funnels that you plan to make.
You can instantly run your first online store once you sign up either for a free account or as a platinum member.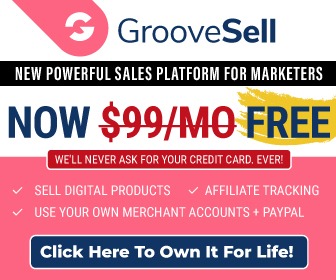 What is GroovePay?
GroovePay is the best merchant account from GrooveDigital that offers the lowest rates compared to other platforms.
Most marketers that use GroovePay for their eCommerce website save over 35% and are also enjoying instant approvals.
The platform also has a feature that accepts credit cards so your customers can shop at ease on your website.
Plus, you don't have to worry all the time since the customer support team is also very responsive.
Unlike other payment providers, GroovePay has a flat rate and no higher rates for every successful transaction.
Who can use GroovePay?
GroovePay can be used by:
Digital Marketers
eCommerce companies
Health and Wellness
Consultants
Live Events
Software Services
Small Businesses
Professional Services
What is GrooveFunnels?
GrooveFunnels is an all-in-one software from GrooveDigital, the company that big names in the industry created.
It's founded by Mike Filsaime and John Cornetta, who are two of the most influential persons in the business world.
The platform comes with a very impressive suite of tools that you can use for your online business.
You may also check our GrooveFunnels review by clicking here to learn more.
Is GrooveFunnels Worth the Money?
DEFINITELY
When you get GrooveFunnels for your company, you know you're in good hands since the platform is very easy to use.
For only $1397, you get lifetime access to the GrooveFunnels suite of tools that are essential for online marketing.
Are GrooveFunnels and ClickFunnels the same?
ClickFunnels is software that helps you build effective sales funnels for your website.
It doesn't have all the essential tools to do other tasks since its main purpose is to create and implement sales funnels.
GrooveFunnels, on the other hand, is a more advanced platform that lets you do more than just building sales funnels.
The platform has its funnel builder, CRM, site builder, store builder, and more.
It basically has all the tools that you can imagine since GrooveFunnels was built for marketers who are expanding their business online.
Are GrooveSell and GrooveKart the same?
GrooveSell and GrooveKart belong to the same platform, which is GrooveFunnels.
Although both platforms are built to generate sales, they have differences too.
GrooveSell specializes on building effective sales funnels for businesses that are selling physical products and aim to increase sales.
Meanwhile, GrooveKart works as a platform that will help you sell any product that can be physical and also digital.
If you're into dropshipping, GrooveKart has a print-on-demand feature that lets you sell digital products from your eCommerce store.
Additionally, the platform also has another feature that lets you sell digital products from another online store.
Is GroovePages Free?
GroovePages is part of GrooveFunnels that you can get lifetime access for free.
This amazing page builder lets you create stunning pages for your business while earning commission even on the free plan.
It comes with a very useful drag-and-drop tool to edit your website without even learning how to code.
If you want to learn more about GroovePages, you may click here to learn how it works.
Or if you want to sign up for a free GrooveFunnels account, you may also click here to get started.